by kathyregini |

Comments Off

on Update your Bath
If you have a dated bathroom, here are tips to give it a fresh, spa look. I'm not talking full-blown bathroom remodel here…small, affordable things that make a big impact.  I recommend many of these ideas when I stage a home for sale.
The first step is to clear off the counter tops and bath/shower stall of all clutter/bottles and put it all in a pile. Next take everything out of your drawers and cabinets, and add to the pile. Wipe down your drawers & cabinets.
Now go through everything, item by item, and discard everything you haven't used in 6 months or more. Keep only the must-haves and organize by category and place in baskets or clear organizer trays & bins. Place these in the drawers & cabinets.There should not be anything on the counter top (we will add things to the counter later).
Next, wash all surfaces.  Scrub the grout and tile clean with special cleanser. Everything should sparkle.
Now you are ready to make improvements!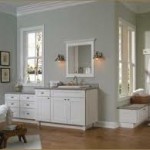 Depending on what your bathroom needs, here are some ideas…
-paint the walls a soft grey/blue
-paint dated oak cabinets white
-add new cabinet hardware
-replace dated lighting
-add a frame around your wall mirror
-add a new shower curtain, towels and bath mat. White makes it most spa-like
-add hotel style towel rack (holds tons!) if space permits
-replace dated sink faucet
-remove all plastic accessories and replace with natural materials such as teak, bamboo,  glass and metal
And last, place decorative glass jars with cotton balls, guest soaps,  etc., on counter, along with  candles and hand towels. I like white.